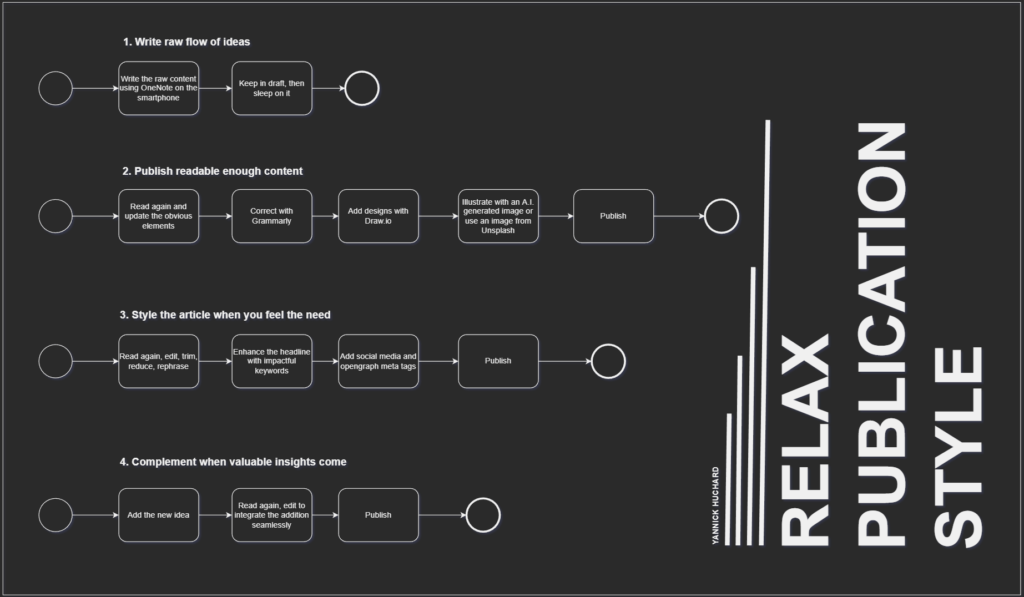 I am sharing my publication style so that it may inspire all the talented people I encounter that feels not having the time, patience, willpower, or method for writing their ideas and experiences.
In my case:
I have too many ideas
Too many learnings to share
Some useful practices to teach
Even more, opinions that need to be polished and challenged
Definitely not enough time
Not always the right amount of motivation at the right time
I equally enjoy learning and writing
Often puzzled by writing either in English or French
Why "Relax Publication"?
It just naturally grows like plants, people, and animals. So I write when I need, publish when I can, and enrich when it makes sense.
I write everywhere and anytime. Most of the time I am on the train, at lunchtime, while I am walking, on the sofa, etc.
Sometimes It can take more than 3 years before I release my writing, sometimes it is done the same day.
Ultimately, I consider my articles to be in perpetual evolution.
The process
The process is simple:
Write raw flow of ideas
Publish readable enough content
Style the article
Augment organically
1. Write raw flow of ideas
I need to write, so I write the raw text in OneNote on my smartphone. Don't force your writing, and write it as you think it.
Write your idea in full. And if you don't have time or you are in a situation where you cannot write use:
A vocal memo
Speech-to-text. I use Google Docs' speech-to-text feature, it is incredibly accurate both in English and French.
Or type your ideas as a tasklist using only keywords. It will help you to structure your next writing iteration without much effort.
I believe words are already within you, writing is only the process of pulling them out to impact the world.

Me
2. Publish readable enough content
Edit and correct it using advanced writing tools like Grammarly or Hemingway. I prefer using my laptop for this activity
I design using Draw.io when a diagram is needed.
I create an image representing the writing based on my imagination using text-to-image A.I. tools, like OpenAI Dall-E, or source the picture from an image bank, like Unsplash
I back up the content
Minimal effort, maximum pleasure. Finally, pause for an undefined period.
3. Style the article
This is about improving the form, and content, then sharing on other platforms.
New ideas come or need to complete my writing
I read again
Add the new ideas
Rework or remove the useless sentences to make them fit
Correct the typo, change a sentence that I feel is underwhelming or could be misunderstood even misinterpreted
Rework the headline for better SEO. I use sometimes the Headline Studio plugin
Then publish
Optionally, share the latest version on other media
Again, minimal effort, maximum pleasure, and usefulness.
4. Augment organically
Complement when valuable insights or new understandings come.
Add a small amount of raw content directly to the article, and keep it in draft
Read again the whole article to ensure the completeness and structural integrity of your sayings
Adjust, and correct where needed
Publish
🫡